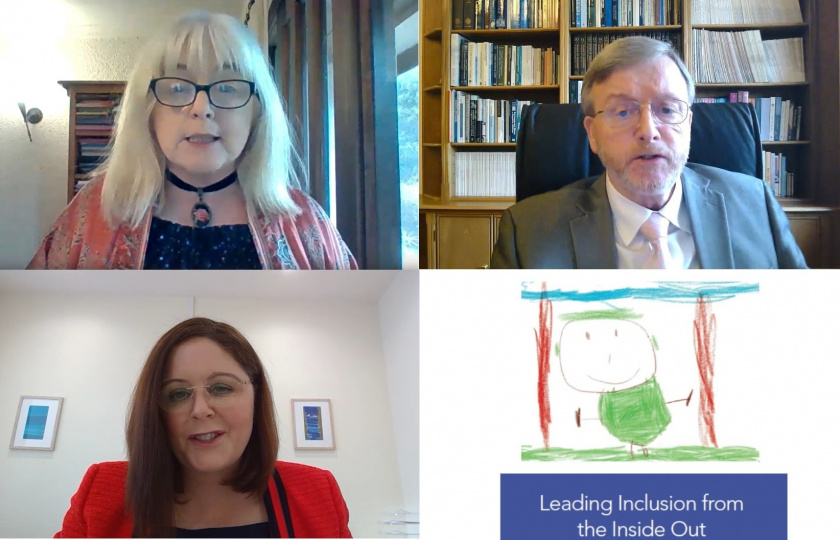 Minister for Further and Higher Education, Research, Innovation and Science, Simon Harris TD has today (February 17) welcomed the launch of a new book from Mary Immaculate College (MIC) that focuses on creating an inclusive early years education system where all children are given the opportunities to reach their full potential. Commending MIC's Faculty of Education on this new publication, Minister Harris said, "I want to congratulate Professor Emer Ring, Dr Lisha O'Sullivan, Marie Ryan and Dr Patricia Daly on the publication of this valuable resource on early years education. Education begins in early years and those working in early years education are entrusted with the very first experience that our children have of education and teaching. Helping create an inclusive education system is something that I am determined to ensure in the Further and Higher Education system, and the value of embracing diversity cannot be underestimated. It is important to ensure every child has access to education, to ensure it is fulfilling and meaningful, and I hope that this new book will help work towards achieving that goal."
'Leading Inclusion from the Inside Out: A Handbook for Parents and Early Childhood Teachers in Early Learning and Care, Primary and Special School Settings' is the first book of its kind to provide parents and early years educators in early learning and care, primary and special schools with practical and effective strategies to support inclusion for all children in early years education.
Recognising this critical phase in a child's education journey, 'Leading Inclusion from the Inside Out' draws on the renowned expertise of MIC's Faculty of Education and proposes a more personalised approach to inclusive education that places the child at the center of decision-making. The authors suggest that capturing the voices of all children is a matter of human rights and social justice, and this new publication offers a range of helpful strategies to support parents and early childhood educators in meaningfully harnessing all children's voices at home, in ELC, primary and special school settings. It also includes strategies to support early childhood educators in enhancing communication with parents and families, and ways in which parents can be encouraged to engage in children's learning.
Speaking at today's virtual launch, which was attended by almost 500 people from across the education sector, as well as parents of children with additional needs, Professor Emer Ring, Dean of Education at MIC, said, "When we began finalising the book over a year ago little did we imagine that we would be launching it as the world was in the grip of a global pandemic. Strikingly, the pandemic has placed education from early childhood through to further and higher education centre stage. However, we are also reminded at this time that ensuring the meaningful inclusion of all children in our education system is a complex and multi-faceted process, with which we are still grappling. Inclusion therefore remains a work in progress, and it is our hope that this book will support the quest for an inclusive early years education system that removes barriers and enables all children and families to flourish."
Believing that language is a significant contributor to progressing an education system where all children are valued equally, the authors have directed specific attention to the use of terminology in this publication. According to Professor Emer Ring, Dean of Education at MIC, "A language of deficit continues to be employed in describing children who are perceived to require extra or special inputs in order to progress through our education systems. The reality is that all children learn differently and at the 27th anniversary of the Salamanca Statement, we should be moving to a place where using terminology such as 'integration', 'inclusion', 'special', 'extra' or 'additional' is no longer relevant or necessary. The continued use of this terminology contributes to maintaining exclusionary practice in our education settings and in the broader society. I and my co-authors aspire to a future where the need for specific terminology is eradicated in favour of a system where education for all becomes a reality, and the differences that all of us have are equally acknowledged, understood, celebrated and accommodated."
According to Professor Seamus Hegarty from the University of Warwick who penned the foreword, "This book draws on the wealth of expertise at Mary Immaculate College to make a powerful case for inclusive early childhood provision – and displays vividly how to achieve it. It is comprehensive, well-argued, accessible and highly practical. It offers a significant contribution to making early childhood provision in Ireland, and beyond, fit for the 21st century."
'Leading Inclusion from the Inside Out' is edited by Professor Emer Ring, Dean of Education at MIC; Dr Lisha O'Sullivan, Head of the Department of Reflective Pedagogy and Early Childhood Studies; Marie Ryan, lecturer in the Department of Reflective Pedagogy and Early Childhood Studies; and Dr Patsy Daly, former Head of the Department of Educational Psychology, Inclusive and Special Education at MIC. The book is published by Peter Lang Oxford and is a follow up to the hugely successful, 'Autism from the Inside Out: A Handbook for Parents, Early Childhood, Primary, Post-Primary and Special School Settings'. All proceeds from the sale of the book will go towards an inclusion charity. Further information is available here.