MIC Thurles Summer School
About
We are delighted to invite you to join us at our Summer School in MIC St. Patrick's Campus, Thurles on 13 & 14 June 2023, the theme of which is 'Celebrating 25 years of the Education Act 1998'. The focus is on conversations regarding the journey travelled and yet to be travelled in supporting the principles of that Act.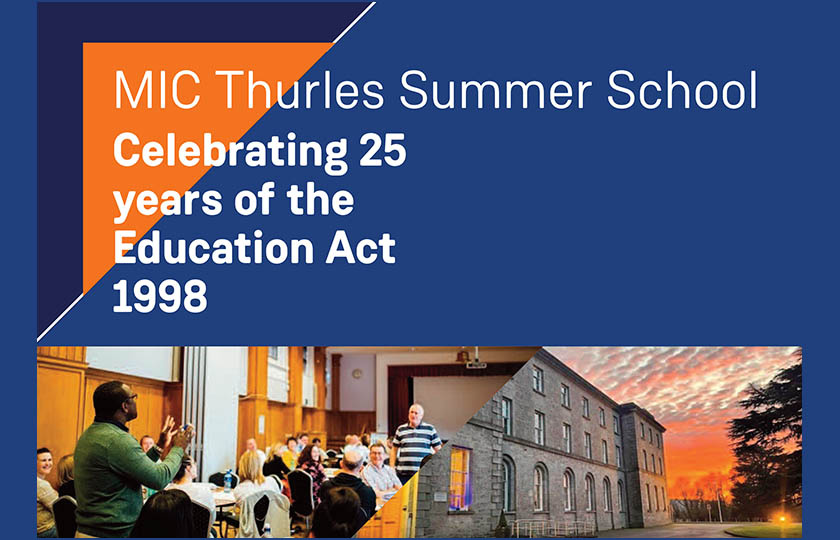 The purpose of this two-day event is to bring together educators, researchers, academics, and multiagency practitioners from Ireland and International educators who are interested in exploring how interagency collaboration can contribute to better support for diverse learners and their families in schools.
The MIC Thurles Summer School will open with a keynote from Chief Inspector Yvonne Keating. This will be followed by an overview of global education patterns as captured by Prof. Tom O'Donoghue and the conference will then open up into workshop style sessions on a host of themes with specific reference to the continuum of teacher education, inclusive practices, school leadership and a host of related topics.
Presenters & Panellists
The two-day event will open with Chief Inspector Yvonne Keating and other guests include CEOs, Arlene Forster, NCCA, John Kearney, NCSE and Lynn Ramsey, Teaching Council. Students, teachers and principals will be joined by others, including Mary Nihill, Centre for School Leadership (CSL), Sharon Cahir, National Induction Programme for Teachers (NIPT), Dr Pádraig Kirk, Oide, Áine Lynch, National Parents Council, as well as Mr Paul Crone and Rachel O'Connor, NAPD and by MIC Thurles Phd/ Master students, as well as Prof. Tom O'Donoghue, University of Western Australia.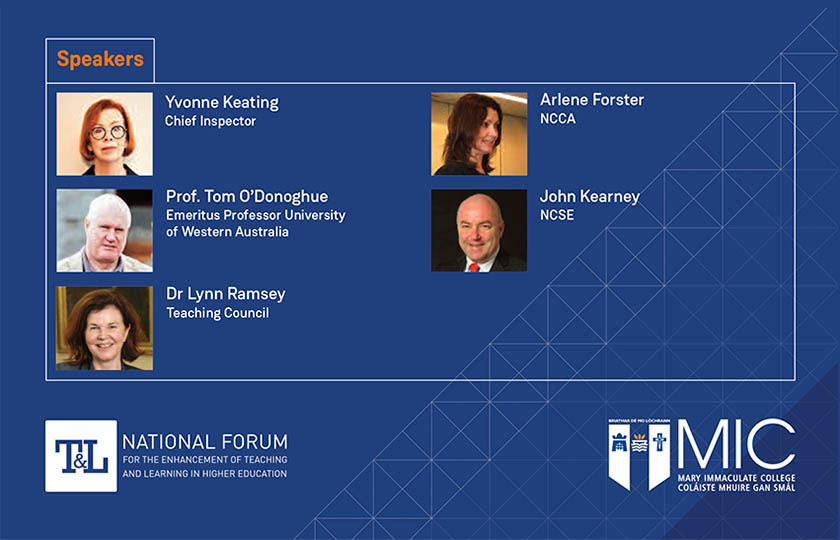 Programme Information
Day One: Tuesday 13 June
10.30am: Registration and tea/coffee, Foyer, MIC Thurles
11am: Opening Keynote Address by Yvonne Keating, Chief Inspector Department of Education
12pm: Reflections by Prof Tom O'Donoghue, University of Western Australia
1 - 1.30pm: Light Lunch
1.30 - 2.45pm: School Practitioner Panel Discussion on Initial Teacher Education and Newly Qualified Teachers (NQTs) with;
Sharon Cahir, The National Induction Programme for Teachers (NIPT)
Student Teacher/ Newly Qualified Teacher
Treoraithe/ Cooperating Teachers
Members of Senior Management and Professional Support Team
3 - 4pm: Panel Discussion with;
Dr Lynn Ramsey Director of the Teaching Council
Dr Pádraig Kirk, Director of Junior Cycle for Teachers (JCT) and Oide
Dr Michael Redmond, Director of Research and Development at JMB
Day Two: Wednesday 14 June
9.30 - 10.30am: Presentation by Hannagh McGinley, Traveller Culture and History NCCA
10.30 - 11.30am: In Conversation with;
Arlene Forster, National Council for Curriculum and Assessment (NCCA)
John Kearney, National Council For Special Education (NCSE)
Rachel O'Connor, National Association for Principals & Deputy Principals (NAPD)
11.30 - 11.45am: Tea/Coffee
11.45am - 1.15pm: Parallel Workshops on Current Research (choose 2 presenters)
Dr Nigel Quirke Bolt and Molly Daly Education Act and ITE Room G09
Dr Maria D Ryan Math's Anxiety Room G10
Dr Siobhán Kavanagh (Middle) Leadership Since '98 Education Act Room G05
Louise Platt The Future of Middle Leadership - Emerging Findings Room G15
Katie Chapple Student Voice Room G16
1.15 - 2.15pm: Lunch
2.15 - 3.30pm: Open Panel Discussion led by:
Bernadette Cullen, Tipperary ETB
Paul Crone, NAPD
Áine O'Sullivan, Association of Community & Comprehensive Schools (ACCS)
Mary Nihill, Centre for School Leadership (CSL)
3.30 - 4pm: Close of Conference with;
Caitlin Faye Maniti, President Irish Second-Level Students' Union
 Evan Gorrell, Teacher Errigal College, Donegal
 Grace O'Reilly, Teacher Douglas Community School, Cork
About

Presenters & Panellists

Programme Information