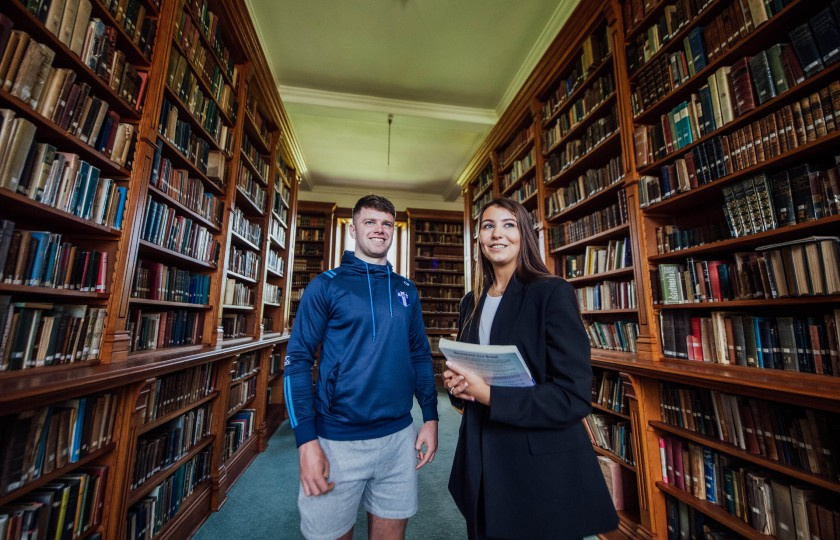 Find out more at the MIC Thurles Open Day
The MIC Thurles Open Day on Saturday 12 November (10am -2pm), is an event not to be missed by aspiring post-primary school teachers. The event will introduce prospective applicants to the campus's existing subject combinations in Business Studies, Accounting, Religious Studies, Gaeilge, Mathematics and the newest addition to MIC Thurles' provision – Home Economics.
Speaking about this exciting new development Dr Finn Ó Murchú, Head of School of Education at MIC Thurles said: "We are delighted to be able to officially announce the launch of the BA in Education, Home Economics and Business Studies (MI015). This four-year, full-time, undergraduate concurrent teacher education degree, commencing in September 2023, is a significant addition to our existing suite of Level 8 degrees and is an exciting development for MIC Thurles and the broader educational community."
Dr Ó Murchú adds: "This new provision is supported by Tipperary Education and Training Board (ETB) and their culinary resources at their nearby Archerstown Training Centre and, it has been agreed with the Department of Education that a number of places will be reserved for mature and further education applicants. At this point I wish to thank all who have made this possible, including CEO of Tipperary ETB, Bernadette Cullen and our local representatives, in particular Jackie Cahill TD. This development offers an exciting range of opportunities for the College to grow and develop in the coming years, all of which could not have been imagined, never mind realised, but for the quality of work all staff and students have undertaken in more recent years in schools and on campus. Our growing reputation as a key provider in post-primary teacher education was, and remains, a key factor in this latest development."
The BA in Education, Home Economics and Business Studies will provide students with an education in the most current methodologies and technologies available to enhance the teaching of their subject areas at post-primary level. The degree programme includes four years of modules in Home Economics and Business Studies. These are taken concurrently with education modules, which include theoretical, pedagogical and professional studies along with a number of school placement experiences.
As part of their development as research-active teachers, students undertake studies in research and research methods. They will also engage in a range of activities associated with wellbeing including social, personal and health education.
Opportunities to travel to, for example, the USA and Japan for short-stay school placements are available in Year 3 and Semester 6 offers opportunities to study abroad, including Australia and a range of other locations.
According to Dr Ó Murchú: "Graduates of this programme will acquire and exhibit some unique competences when qualified including critical and analytical thinking, problem-solving, reflection and self-evaluation skills, the ability to integrate and apply knowledge, skills, attitudes and values in complex and unpredictable educational settings, and strong interpersonal skills and a readiness to be leaders and innovators of curriculum change. While the programme prepares graduates for their roles in all areas of professional life in education other career opportunities will also be open to them in areas as diverse as agri-business, educational management, entrepreneurship, food and fashion industry, retail management and mentoring, and training and development."
This new programme announcement means MIC Thurles now boasts seven degrees that have an education and school placement component. MIC Thurles' concurrent teacher education programmes are structured so that the education component is included in each year and the graduate is qualified to teach to honours Leaving Certificate level after completion of their degree. There is no requirement to complete a post graduate Master's in Education. This not only means graduates are qualified in four years, as opposed to six, but there is also the attendant cost savings. Considerable cost benefits are also enjoyed by those who choose to study in Thurles in terms of relative living costs.
In relation to the MIC Thurles Open Day Dr Ó Murchú explains that: "Attending the Open Day will provide students, and their parents, with a great opportunity to get a feel for the warm close-knit learning community that is MIC Thurles. Those who come along will also be able to sit-in on programme talks, tour the campus and experience what college life is all about. In addition, attendees can find out about the range of accommodation options, student academic and well-being supports, and the linkages to MIC Limerick."
Current student, Shane Walsh (Year 3 BA in Education, Business Studies and Religious Studies) comments: "What I like about MIC Thurles is everyone walks around here with their head up. You are known by your name not a number, and if you are out you are missed- not always a good thing but when you think about it, it actually is a good thing. Because you are missed it means you belong here and you are not invisible to fellow students or lecturers. The sense of team helps you to stay focused with your studies and involve yourself in activities and helping others.  When we finish the reputation of this College means there is work for us as teachers and that is important too."
Please note: The BA in Education, Home Economics and Business Studies is subject to Teaching Council Accreditation. The process, leading to the programme's accreditation, will be undertaken in the Spring of 2023 when all MIC education programmes come under scheduled review by the Teaching Council in light of the new Standards in Initial Teacher Education (CÉIM).
Register now for the MIC Thurles Open Day.
Full details at mic.ie/CAO.