About
Aurora is Advance HE's leadership development initiative for women. It is run as a unique partnership bringing together leadership experts and higher education institutions to take positive action to address the under-representation of women in leadership positions in the sector. Since its launch in 2013 more than 7,000 women from nearly 200 different institutions across the UK and Ireland have participated in Aurora.
Aurora is for women, up to senior lecturer level or the professional services equivalent, working in a university, college or related organisation who would like to develop and explore issues relating to leadership roles and responsibilities.
MIC supports female staff to undertake the Aurora programme and to develop the leadership skills and networks of female staff (Action 5.3.9, MIC Athena SWAN Action Plan). 
Keep an eye out for emails from the office of EDII seeking expression of interests from staff for the programme.
Aurora 22/23
Aurora 2022/23 Dates & Content:
The 2022/23 programme will be delivered online, dates below. There will be an in person session in Dublin next May also.
Intro Webinar - online: Tuesday 22 November 2022
Identity, Impact and Voice - online: Tuesday 29 November 2022
Core Leadership Skills - online: Tuesday 17 January 2023
Action Learning Set 1 - online: Tuesday 29 February 2023
Politics and Influence - online: Tuesday 21 March 2023
Adaptive Leadership Skills online: Tuesday 18 April 2023
Action Learning Set 2 - delegates self-host: Tuesday 9 May 2023
Your Future in Higher Education - Dublin: Wednesday 17 May 2023
The Aurora programme is a mix of development days and action learning sets. Participants will be asked to:
attend the introduction webinar which will introduce the aims and objectives of Aurora along with an inspirational guest speaker
attend each of the four development days, and the two action learning set days
undertake self-directed learning throughout Aurora, aligned with development interests
commit to working with a mentor
be prepared to access leadership opportunities and champion for change.
If you would like to participate, please complete the expression of interest form here. (Deadline for expression of interest has passed)
Aurora Alumni Celebration
August 2022
We celebrated our Aurora alumni graduates with a presentation of their Aurora certificates and badges to particpants on the 2020/21 and 2021/2022 cohorts. Mentors joined us for the event. Past participants and mentors shared their experiences of the programme and answered questions from those interested in pursuing the course in the future.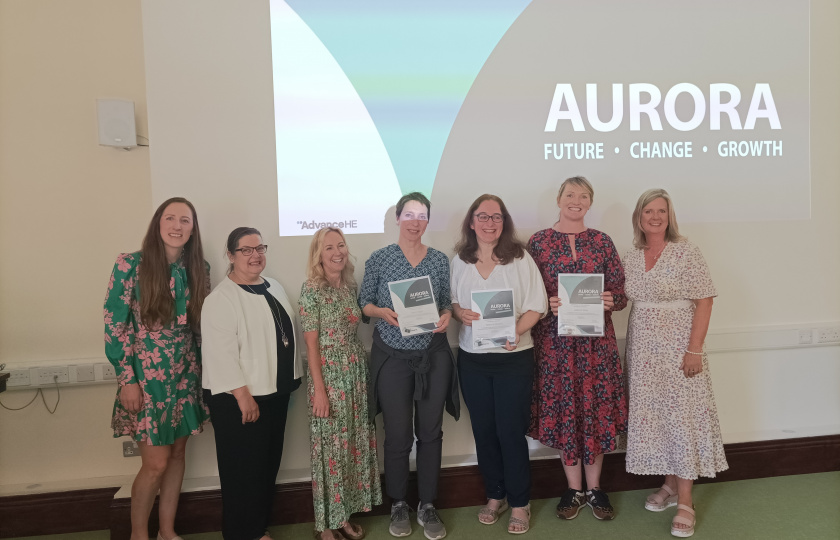 About

Aurora 22/23

Aurora Alumni Celebration