Student Parent Support Service
About
Mary Immaculate College offers a dedicated confidential, non-judgemental and one-to-one support service to the following groups: Students who experience an unplanned or crisis pregnancy; any student who becomes a parents during the course of their studies and students who start college as a parent.
 MIC is the only Irish third-level college with a specific service for expectant/student parents and over 400 students have engaged to date. 
The service—funded by the HSE and the College—provides students with access to ongoing emotional and practical support, as and when required throughout the duration of their studies. Emotional support is vital at this time for students and is provided through regular one-to-one sessions. Practical support involves signposting, referral and linking with key supports within MIC and external agencies thereby ensuring students are aware of their entitlements and are able to access all supports available to them. Through the auspices of the service, students are actively encouraged to build their own support network and engage with supports both within and outside the College.
Now in its eleventh year, the service provides one-to-one support by appointment, a weekly-facilitated networking space (every Wednesday morning during semester time), group support, relevant workshops and other wrap-around supports.
Information resources and social media are also utilised to encourage student engagement and connection to the wider college experience. This is significant as student parents are prone to experiencing isolation and time restraints while juggling caring responsibilities. There are regular updates posted on the service's dedicated Mary I Student Parents Facebook page, as well as information and updates in areas of concern for this cohort.
In addition, family friendly events are organised on campus by the service in collaboration with MISU. An example of this is the annual Student Parent Children's Christmas Party, which has increased in size each year since 2010 and become a key event in the academic year for student parents. It provides an opportunity to welcome the children of student parents on campus and include them in their college experience.
For a helpful first point of contact for students who are considering engaging with the service or as a first point of information on what the service offers for students and staff alike, see the: Handbook for Students who experience Crisis Pregnancy and Expectant/Student Parents at MIC.
The SPSS is based in T307 (within the Medical Centre). Call +353 61 204347 or text 'APPOINTMENT' to 087-9501160.
In a College that has at the core of its mission a commitment to provide "an environment where all have freedom and opportunity to achieve their full potential", the Student Parent Support Service achieves just that. 
Contact
Student Parent Support Service Coordinator
Nicola Hurley
+353 61 204347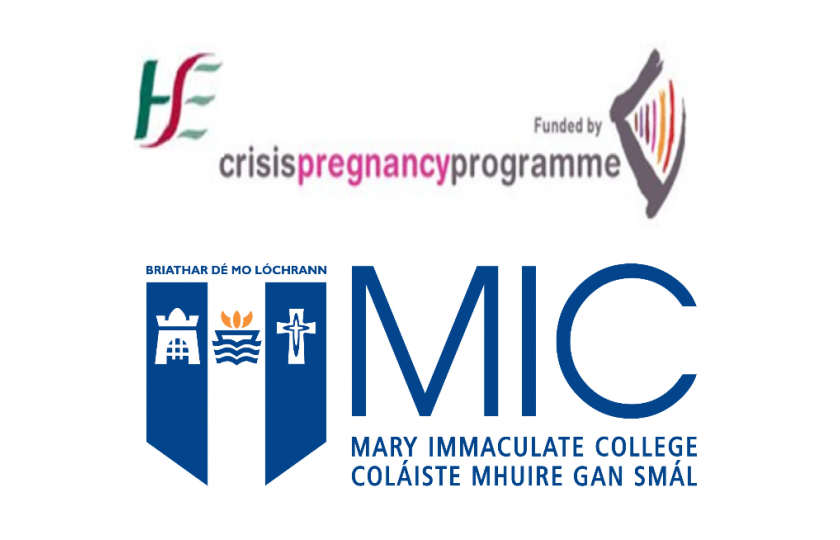 Background
The service, which began as a pilot project, was established by Mary Immaculate College in October 2007 following a successful funding application to the HSE by Mary Immaculate College Students' Union (MISU). The service was initially offered on a two-day week basis and has evolved considerably over the last 11 years. The objective was to build on existing supports through a partnership approach between MISU, the MIC Access Office and Health Promotion to offer students a dedicated service to support their emotional and practical needs. 
The role of the Student Parent Coordinator was, and is, to provide "360 degree holistic support to students experiencing crisis pregnancy and student parents in the event of them experiencing difficulties in any area of student life".
Research & Development
The experiences of the service have been disseminated nationally through an Information Guide for Expectant Student Parents and Student Parents at Third Level, which was launched in November 2012. In addition to the Information Guide being circulated to all third level colleges in the country, it was also published on the HSE Crisis Pregnancy Programme website.
In November 2018, a revised version Handbook for Students who experience Crisis Pregnancy and Expectant Student Parents at Mary Immaculate College has incorporated the personal experiences of current and recently graduated students with a greater focus on self-care, building resilience and encouraging support seeking and engagement with support services. This focus has become central to the work of the service in empowering expectant and student parents to achieve their goals.
Student Feedback
"I found that the service was readily accessible and inclusive, it allowed me to connect with other student parents and learn about their experiences. The service helped me through many difficult times, in terms of both finance and emotional support."
"The support of the service Coordinator was invaluable to me throughout my time as a student, it provided me with a place where I could talk about anything that might be on my mind or causing me stress, the knowledge that I was not alone in my struggles and the confidence to believe I would be successful."
Lawlor, J. et al (2015.) Student Parent Support Service at Mary Immaculate College: An Outcome Evaluation for the HSE Crisis Pregnancy Programme. School of Nursing and Midwifery. Dublin: Trinity College.
About

Staff

Background

Research & Development

Student Feedback