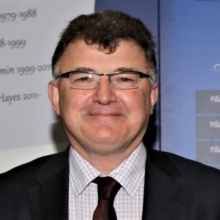 More information
Professor Michael Breen has been Dean of Arts since 2008. He holds undergraduate degrees from UCD and University of St Thomas Aquinas, Rome, as well as a Master of Science and PhD from Syracuse University, New York.
A past Research Fellow of the Irish Research Council, he has served as a executive member of the Council and is currently a member of its International Advisory Panel. He is Chair of the European Social Survey, an ESFRI landmark infrastructure, and a member of the Council of Directors of the European Values Study. He is a director of the Irish Centre for Catholic Studies Centre and of the Centre Culture, Technology and Values at Mary Immaculate College. He has written extensively on human values and on secularism, his most recent books being Changing Values, Attitudes and Behaviours in Ireland: An Analysis of European Social Survey Data in Ireland, 2002-2012 in 2016 (with Amy Erbe Healy) and Values and Identities in Europe: Evidence from the European Social Survey in 2017.
He is a member of the Global Anti-Human Trafficking Task Force which was launched at a meeting in the UN in October 2018, and co-chair of its Education/Academic sub-committee. His current research is in the area of human trafficking and modern slavery, in which capacity he serves as co-principal Investigator for the Human Trafficking project at MIC. He is also a member of the Santa Marta Group, an alliance of international police chiefs and bishops from around the world working together with civil society to eradicate modern slavery.