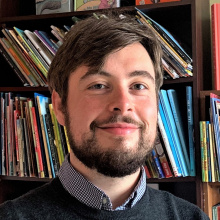 Research interests
Disciplinary literacy; technology and literacy; multimedia learning; inclusive literacy teaching; psychological perspectives on literacy development; school self-evaluation; curriculum design and implementation; English as an additional language; literacy teacher education; children's literature. Link to ResearchGate Profile.
More information
Patrick is a Lecturer in Education and member of the English Language and Literacy team. He originally graduated with a degree in Education and Psychology from MIC/UL, after which he worked as a classroom teacher and post-holder in a diverse primary school in Dublin. He went on to study for a Master of Education degree in Reading/Literacy at Frostburg State University (MD, USA). During this time he was an International Fellow in the Children's Literature Centre, where he collaborated on a number of initiatives to develop a love for reading among young people in the local area. He subsequently worked as an advisor with the Professional Development Service for Teachers (PDST), which involved the design and delivery of CPD in Gaeilge and English nationally. Patrick is involved in a number of professional and research-based projects in literacy education. Most recently, this included membership of the NCCA development group for the Primary Language Curriculum (3rd-6th class). He is currently undertaking doctoral studies on the subject of disciplinary literacy, under the supervision of Dr Eithne Kennedy, DCU. 
Recent Conference Contributions
Burke, P. (2019, November). Literacy in a broad and balanced curriculum: How can research inform practice? Workshop presented at the INTO Consultative Conference on Education: Review of the Primary Curriculum, Newpark Hotel, Kilkenny.
Burke, P. (2019, October). Linking language, literacy and learning: Creating cross-curricular opportunities for reading, writing, speaking and listening. Paper presented at the International Literacy Association Annual Conference, New Orleans, LA.
Ryan, M. & Burke, P. (2019, October). Theoretical perspectives on play in a redeveloped Primary School Curriculum. Paper presented at the Revolutionising Education through Play and Voice Conference, Mary Immaculate College, Limerick.
Burke, P. (2019, August). From children's literature to the research literature: Preparing pre-service teachers for research-informed literacy practice. Paper presented at the 21st European Conference on Literacy, Learning from the Past for the Future: Literacy for All, Copenhagen, Denmark.
Recent Publications
Burke, P. (2020). Preparing the educators of the future: The case for research literacy. Literacy Today, 38(3), 12-13. Available: http://viewer.zmags.com/publi…  
Barry, C. & Burke, P. (2020). Supporting purposeful and strategic readers: Transactional strategies instruction in a DEIS Band 1 classroom. Irish Teachers' Journal, 8(1),25-39. Available: https://www.into.ie/app/uploa… 
Ring, E., O'Sullivan, L., Ryan, M. & Burke, P. (2018).  A Melange or a Mosaic of Theories? How Theoretical Perspectives on Children's Learning and Development can Inform a Responsive Pedagogy in a Redeveloped Primary School Curriculum. Dublin: National Council for Curriculum and Assessment. Available: https://www.ncca.ie/media/386… 
Gardiner-Hyland, F. & Burke, P. (2018). "It's very hard to know how much is the EAL and how much is the learning difficulty": Challenges in organising support for EAL learners in Irish primary schools. LEARN: Journal of the Irish Learning Support Association, 40, 54-64.
Burke, P. (2018). Literacy in transition, literacy at the transitions: (Dis)continuities in literacy's position in the broader curriculum. In B. Culligan & M. Wilson (Eds.), Perspectives on Literacy: Bringing Voices Together (pp. 44-57). Dublin: Literacy Association of Ireland.
Burke, P., & Welsch, J. G. (2018). Literacy in a "broad and balanced" primary school curriculum: the potential of a disciplinary approach in Irish classrooms. Irish Educational Studies, 37(1), 33-49. https://doi.org/10.1080/03323315.2017.1421088