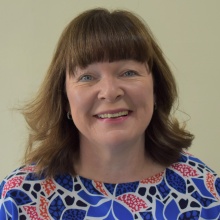 Research interests
Irish America 1850-1920; Visual research in history - political cartoons and photographs in particular; nineteenth and early twentieth century newspapers in Ireland and America.
More information
Úna Ní Bhroiméil  lectures in American history at Mary Immaculate College, University of Limerick. She graduated from NUI Galway with a BA in History and Irish, an MA in History and a Higher Diploma in Education. Úna earned her PhD at Lehigh University, Pennsylvania  and her thesis was published by Four Courts Press in 2003 entitled Building Irish Identity in America 1870-1915 – The Gaelic Revival. She has been the co-ordinator of the Taught MA programme in History in MIC since setting up the programme in 2008 and she has examined, supervised and mentored MA and PhD students in American and Irish American history. Úna has been a vigorous contributor to  and an elected representative on numerous governance and academic committees in MIC.
Úna's publications and research output focus on the forces that shape and signify cultural identity. These forces include: migration and trans-nationalism, the Press, political cartoons, photographs and the visual arts, public policy as regards teaching and education and the role of public players and brokers of influence. She specifically studies the use and critical interpretation of newspapers and the published word including women's and religious magazines. Some of her recent publications include:
'Political cartoons as visual opinion discourse: The rise and fall of John Redmond in the Irish World', in Karen Steele and Michael DeNie,  eds., Ireland and the New Journalism (New York: 2014) 119-141
"A tinge of effeminacy" - Masculinity and National Manhood in the Mosely Report, 1904, Paedagogica Historica: International Journal of the History of Education, 51:3, 335-339 and DOI: 10.1080/00309230.2014.982663, 2-15
'An American Opinion- John Quinn and the Easter Rising 1916', in Miriam Nyhan Grey, ed. America and Easter 1916 (Dublin:2016), 201-215
'An Piarsach i Meirceá' in Gearóid Ó Tuathaigh, ed. An Piarsach agus 1916: Briathar, Beart agus Oidhreacht, Indreabhán, (Gaillimh:2016) 217-245
'"Up with the American Flag in all the glory of its stainless honour": Anti-imperial rhetoric in the Chicago Citizen, 1898-1902' in Michael de Nie, Timothy McMahon and Paul Townend eds., Ireland in an Imperial World, New York: 2017) 245-265.
She is a regular presenter at national and international conferences such as the American Conference for Irish Studies (ACIS), the Society for the Study of Nineteenth Century Ireland (SSNCI) and has presented papers at American Historical Association (AHA), International Visual Sociology Association (IVSA) and American Educational Research Association (AERA) conferences.
Among her current research interests is the New York Irish-American lawyer and influence-broker John Quinn who was a patron  to literary figures and artists such as WB Yeats, James Joyce, TS Eliot, Augustus John, Marcel Duchamp and Picasso among others. Úna was awarded a Gilder Lehrman Senior Fellowship to continue her research on Quinn in the New York Public Library and is currently completing a book on Quinn.
Úna is a frequent presenter and historical expert on a range of related topics in the media in English and as Gaeilge – especially on television. She presented series 2  of Tríd an Lionsa - the documentary on historical photographs in 2018.