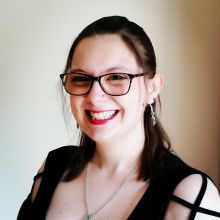 Research interests
The positive aspects of video games on well-being, self-determination theory, abnormal psychology.
More information
Yemaya's main area of interest involves the relationship between technology and well-being with a particular focus on video games. The aim of her work is to better understand how video games can have positive influences for everyday life. She is also an aspiring indie game developer with dreams of creating games that can be beneficial to well-being. She hopes that with her research and her game development, the world can see that unlike anecdotal beliefs, video games are a wonderful and fun recreational activity.
She has been a part-time lecturer at MIC for the past year lecturing on various different modules and supervising three UGD students to completion.
Research Profile
Published Manuscripts
Halbrook, Y. J., O'Donnell, A. T., & Msetfi, R. M. (2019). When and how video games can be good: A review of the positive effects of video games on well-being. Perspectives on Psychological Science, 14(6), 1096–1104. https://doi.org/10.1177/1745691619863807
Senan, S., Msetfi, R. M., El Keshky, M., Halbrook, Y. (2019) The relationship between perception of control and mood: The intervening effect of cultural values in a Saudi Arabian sample. PLoS ONE 14(8): e0220509. https://doi.org/10.1371/journal.pone.0220509