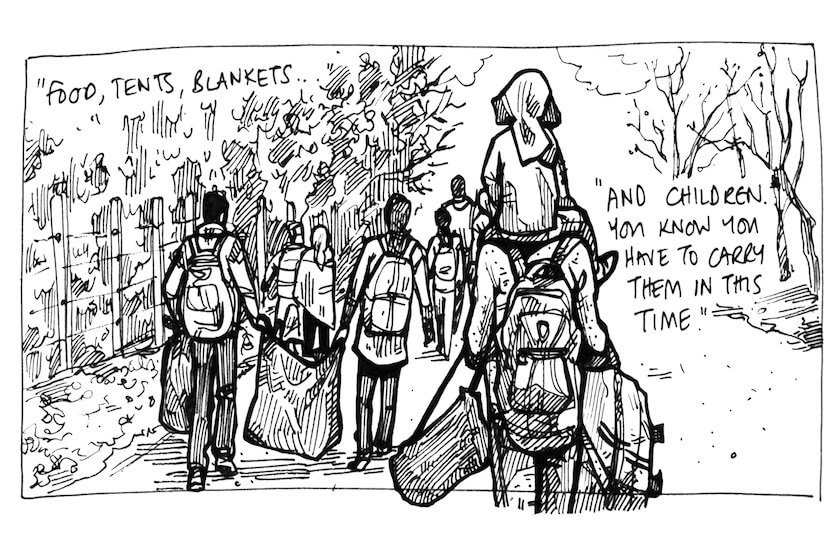 Event
TBC
Where
Online & MIC Limerick
More information
Aleppo to Ireland is a showing of work created by Maeve Clancy during her time as Visual Artist in Contemporary Drawing at Mary Immaculate College. Originally planned to be an onsite exhibition, due to the campus closure it is now taking place online. A larger show will take place in the College in the autumn.
See Maeve's work online here.
Description
Over her time in the College as an Artist-in-Residence, Maeve Clancy has worked closely with Rouba and Noura Merzah, two young Syrian women who had to leave their own homes due to war. Now resident in Ireland, they are looking to restart their paused lives. The work follows their journey to this country, documents their life before the war and will eventually detail some of their experiences in Ireland. The work began during the artist's three year residency in the college and will continue on afterwards.
The two young women are attending college near their new home. They are a similar age to most of the MIC student body and despite their extreme life experiences, they are very like the young women and men who make up a large part of the college population. The Irish population is changing: from a very white Catholic demographic it is becoming more diverse. In any primary school classroom are a wide variety of nationalities and ethnicities. This ongoing work with the Merzah sisters not only chronicles their journey from there to here, but will also look at their integration in Irish society.