BA in Contemporary and Applied Theatre Studies (MI001)
CAO Points 2022: 308 points
Places Offered: Up to 30

Programme Overview
Programme Content
Entry Requirements
Ask a Question
Programme Overview
The BA in Contemporary and Applied Theatre Studies is an innovative four-year, full-time honours degree (Level 8) in drama and theatre studies. Launched in 2015, it is the first programme of its type in Ireland and gives students a round and broadly-based education in drama and theatre, and a specific set of skills in the contemporary and applied aspects of the field. It deals with all the general areas of drama, such as ensemble performance, the study of plays, theatre visits and studio practice. Students will have the opportunity to develop their own artistic skills and specialise in their own particular areas of interest. The programme will give participants a diverse, sophisticated and vocational experience.

Distinctive Features
Applied theatre is considered to be the study of drama and theatre across a range of practical applications and non-traditional settings, not defined by stage performance or the study of literary texts. Contemporary theatre signals that the programme will deal largely with current and emergent modes of theatrical production and reception.
Unique aspects of the BA CATS programme include:
A unique qualification in drama not offered elsewhere on the island
A strong balance of studio/workshop to classroom teaching
Access to two professional theatres (Lime Tree Theatre & Belltable), their staff and facilities
Participation, as part of coursework, in three full-scale productions, staged to professional standards
Up to 15 theatre visits per year as part of the course
The opportunity to engage with professional, touring and community-based theatre practitioners and projects
The chance to develop a specialised set of skills and knowledge in areas such as drama facilitation, drama teaching, technical theatre, cultural policy and administration
Professional placements, giving students a unique range of contacts in an extensive range of arts organisations in Limerick, across the country and abroad
Modules
The programme focuses on the contemporary role of theatre and its practitioners in society. At its heart is the concept of ensemble, which values and emphasises the importance of the practice of the group and collective when working in drama. The idea of a pro-social theatre is also very important for our programme. This highlights how theatre can be used to engage with specific sites and audiences, and it exists not only as entertainment, but also has a core societal function. This programme will be offered in close association with the Lime Tree Theatre which is located on the College campus, and which has hosted over 100,000 patrons since opening as a professional venue in October 2012. Through our relationship with the Lime Tree and our other venue, the Belltable, students on the programme will be exposed to the best local, national and international practice through visiting companies, festivals, etc., and from the input of a range of visiting lecturers and practitioners.
Teaching on the programme is research-led and informed by a practice-based approach. Students will encounter a range of classroom-based, studio-based and virtual learning contexts. Each module will be assessed independently of each other through continuous assessment and a variety of assessment methods each semester.
Off-Campus Programme
Three years of the BA CATS programme are delivered on campus at Mary Immaculate College, and one year (Year 3) on a professional work placement and/or a study abroad programme.
Semesters 5 and/or 6 of the BA CATS Programme offers students the opportunity for work-based learning and professional placements are provided for students in a variety of relevant settings. If they so choose, students can also expand their knowledge and skills through international study in one of MIC's partner universities in Europe, North America and Australia.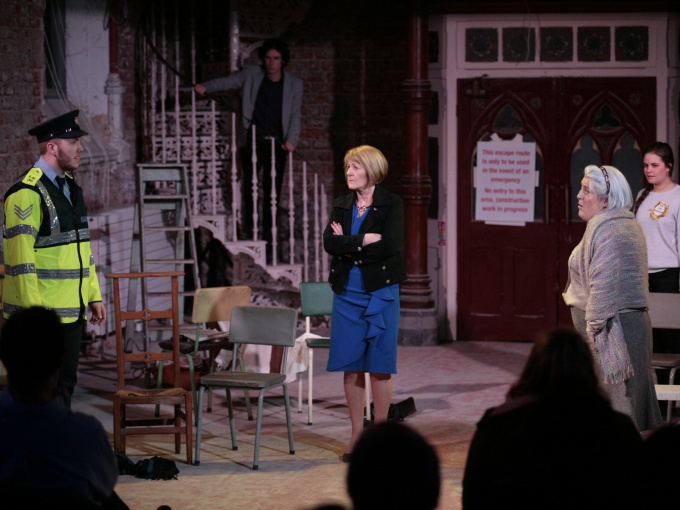 Career Opportunities
Possible destinations for graduates include further academic study in the field of drama/theatre; or further vocational training in a specific discipline of drama/theatre such as acting, theatre design or stage management. Graduates may also enter employment with a theatre company or venue, or may work in a freelance capacity in some aspect of drama/theatre artistic practice. Graduates of the BA CATS programme may be particularly suited to work in the following specific disciplines of theatre:
Community theatre
Theatre for Young Audiences
Youth Theatre
Theatre in Education
Drama education/teaching
Street theatre
Storytelling
Theatre for development;
Museum theatre
Reminiscence theatre
Theatre in health education
Dramatherapy
Technical theatre
Documentary/Verbatim theatre
Site-specific theatre
Undergraduate Entrance Scholarships
MIC will offer for competition, on the basis of results in the Irish Leaving Certificate Examination, First Year Undergraduate Entrant Scholarships, to entrants on the BA in Contemporary and Applied Theatre Studies programme, valued at €2,000 each. Further information available here.
Contact
Dr Michael Finneran, Programme Director, BA CATS and Head of Department of Drama & Theatre Studies
T: +353 61 204976
Programme Overview
Programme Content
Entry Requirements
Ask a Question